OK, it's been over a week, but I've had a wild time since getting back. I was unable to blog from the con, as I couldn't hook up to the wireless connection in my far-flung hotel room (I was waaaay in the back), and then I was busy at work catching up on stuff, and then had an insanely busy weekend (book club, volunteer work, big burlesque show, and lunch with one of my best buds). So finally tonight I'm getting down to it.
Monster Bash, for those who don't know, is a yearly horror convention in the Pittsburgh PA area (this year in the suburb of Butler), with a focus on classic monster movies (not much for slasher and torture porn there, thank goodness). It also functions as a sort of family reunion for a circle of friends who interact throughout the year via the 'net.
This year was bittersweet; we were all in mourning for Richard Valley, the editor of the late great magazine Scarlet Street, who lost a long struggle with cancer in October. He was always a vibrant presence at Monster Bash; here he is doing a comedy sketch with Mike "Ygor" Thomas at the Bash of 2006.
Our collective loss hung over us the whole time, but by this time it had become almost a comfort. It was warmly reassuring to see so many of the gang showing up, exchanging embraces. Richard created the Scarlet Street forums where we had all met and become friends, and it was heartening to see a living legacy of a family of choice continuing on after his passing. We continue to function as a family, and not fly off in different directions. And that is good. This year, we even added to the family.
It was my fourth Monster Bash, and when I drove up to the hotel (after a beautifully uneventful drive from DC), I was already meeting friends and became aware that the con organizers were already knew who I was. (That always surprises me...) This was also a big event for us because some of the gang had got together and organized to produce a new magazine to carry forward Richard's spirit and the style of Scarlet Street (which pretty much ceased to exist legally after Richard's passing). Monster Bash '08 was the premiere of SCARLET: THE FILM MAGAZINE! Also exciting for me was that the premiere issue had my writing in it; I did a review of Jonathan Rigby's excellent book AMERICAN GOTHIC, that was the first review in the book-review section. (One of the editors said it was the best writing I've ever done.) I also had a quote in a tribute-to-Richard section and a photograph I'd taken two years ago was featured on the Editor's Message page. Scarlet's debut issue is simply gorgeous, wonderfully laid out and just overflowing with quality content. Reaction was overwhelmingly positive and sales exceeded expectations, which is a very, very good thing. (If you want a copy, write to Scarlet at PO Box 2092, Cleona, PA 17042; the issue is $10.)
Here's the gang at the Scarlet table in the dealer's room. That's publisher Kevin Shinnick in the red short sleeves, co-editor Harry Long in red long sleeves, blurrily on the phone, and John-Paul Checkett looking on at right. On the left, talking to Kevin, is Barb Heiss, one of Monster Bash's organizers, who makes delightful scrapbooks each year of her convention memories.
A big part of the fun of conventions like this is the shopping! I came away with quite a few treasures, including a stack of DVDs, a Christmas ornament of a flying witch (yes, actual horror ornaments!), a tray and napkin holder from a dealer selling antique furniture painted with all sorts of ghoulish stuff (really, they rock), and other things. I often don't care much about celebrity guests, but this year I totally geeked out over Elizabeth Shepherd, who was Rowena in Corman's TOMB OF LIGEIA, as well as the first Emma Peel, and who was utterly lovely and gracious as well as outspoken and affectionately tart-tongued. She really seemed to be enjoying herself and the convention; I often saw her walking around, inspecting the goings-on with a fond smile.
I also met and befriended a young artist, Chris Kuchta, who has wonderful portraits of all sorts of movie and literary monsters. He had a portrait of Edgar Allan Poe that was simply one of the best modern interpretations I'd ever seen, and I eagerly snapped up a print. He's trolling for commissions and commercial work, so if anyone reading this wants to check out his work, go visit him at the
Kuchta Academy
.
Saturday night was the annual Scarlet Dinner, a special occasion for many of us. We gathered at Natili, an Italian restaurant in downtown Butler, which always has good food and a terrific staff. Here's the gang all gathered together: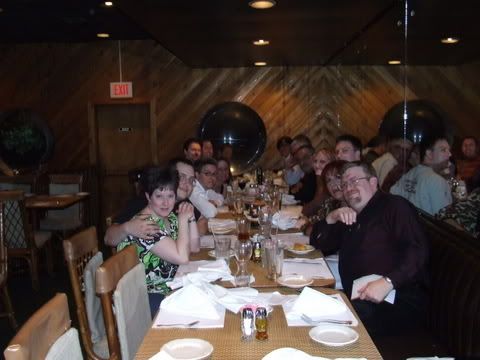 And we clowned around out front afterwards...
From left to right: film critic/author/Scarlet co-editor Ken Hanke, me, Aussie boy Al Paige and his partner Gary Bartlett, and Harry Long, the other editor of Scarlet and also editor of Van Helsing's Journal (for which I write DVD reviews).
Although the con pretty much wrapped up on Sunday afternoon, I stayed until Monday morning (a wise choice, it turns out, as a thunderstorm passed through that night). I was assured that I'd be included in plans for the next Scarlet (yay!), had more fun with my friends who were also staying over, and left after a delicious breakfast. (The Days Inn of Butler, where we stayed, is slightly shabby but actually has good food and a mostly friendly staff, and overall seemed happy to have us there.) My drive back was also blissfully uneventful (I've had car trouble on my drive back the last two years); I plugged in my iPod and the Shuffle function brought up songs like "Werewolf of London" and "Dragula" and "Swingin' at the Seance." And when I stopped for lunch, the cashier blanched and told me my bill was $6.66, which had me chuckling.
But I keep thinking about when we were all packing up Sunday afternoon. We were happy about how the con had turned out, happy in making new friends and reaffirming old ties, but reluctant to have it all end. I wandered about the dealer's room, snapping photos of various folks packing up.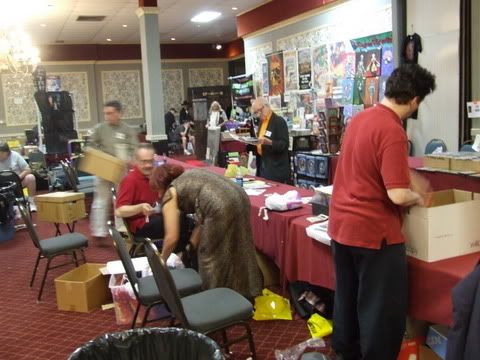 Watching the Scarlet gang pack up (and helping a little), I kept humming a tune from the show "Pump Boys and Dinettes."
Pull the twin garage doors down
Coil the air hose tight
Fill the sugars, mop the floors
Leave a light on
Leave on a light

Closing time, closing time
Closing for the evening
See you when you stop this way again

Closing time (closin' for the evening)
Closing time (closin' for the evening)
Closing for the evening
See you when you stop this way again

Mm, knockin' off
I got twenty-two dollars and one dime
What'll that buy?
A tank of gas
But you can pay tomorrow 'cause it's closing time

Closing time (closin' for the evening)
Closing time (closin' for the evening)
Closing for the evening
See you when you stop this way again

Well, I'm so thankful to lighten up my load
When you abide by the roadside
Sure feels good to hit the road

Garage doors down (closin' time)
Locked up tight (closin' time)
Closin' for the evening
Leavin' on a light till you come again
Leavin' on a light till you come again
Leavin' on a light till you come again
Yeah, leavin' on a light till you come again
Leavin' on a light
Good night.