I meant to post a few things before this, but the holidays and work and an obnoxious on-and-off illness have interfered. Still, it's time for a bit of partying!
On the 21st of December I attended a workshop called "Science is Murder," sponsored by the Washington Academy of Sciences. Authors Louis Bayard, Dana Cameron, Ellen Crosby, and Lawrence Goldstone all discussed how they handled the scientific content of their books. It was a very interesting evening and I got autographed books from all four, that I'll be reviewing in coming months.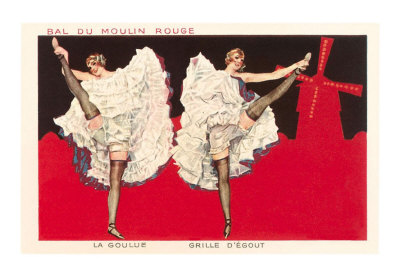 I'm going out tonight, with two of my best friends, for dinner and then a burlesque show at the Red Palace, and it should be a lovely time. Since I allowed myself to daydream about the Phantom Ball (a pipe-dream about a Halloween dance party), I've found myself wondering about a New Year's Eve edition, only going for a different feel...a Belle Epoque, Parisian, Folies Bergere/Moulin Rouge sort of show, with a lavish buffet, champagne flowing like water, an orchestra and a program of cabaret songs and selections from Offenbach and Lehar and Strauss and Romberg and whoever else (no Gilbert & Sullivan, I am horribly sick of Gilbert & Sullivan), and a line of cancan girls at midnight. Kinda like this clip, from a production of Lehar's "The Merry Widow" in Geneva.
I've lately decided that the world needs more operetta, and not just G&S. Offenbach had a bit a revival lately with productions of "Orpheus in the Underworld" all over the place, and hopefully we can revive his other operettas as well. The French operettas are naughty (Offenbach's were often glorified peep shows), and Viennese operettas dealt openly with infidelity and sexual intrigues, and all had wonderful music and lovely waltzes. While they may not have the wordplay of G&S, their subject matter often makes G&S operettas seem overly cutesy and twee, and sadly dated where their French and Viennese cousins have aged much more gracefully. (Offenbach's "Orpheus" translates beautifully to modern times, with its theme of an unhappy marriage being enforced by the personification of Public Opinion, these days often played as a TV news crew. I'll freely admit that G&S's "Iolanthe" has political satire that's still relevant, and probably always will be, but others, like "Patience" and "Princess Ida," are more valued for their music and wordplay rather than the relevance of their spoofery.)
So here's my cry for 2011...BRING BACK THE OPERETTA!
And have a wonderful and safe New Year's Eve, Dear Readers, and I'll see you in 2011.