We lounge about at our tables, sipping our cocktails or absinthe, conversing by candlelight. The dimly lit chandeliers illuminate, slightly, the red flocked wallpaper and dark woodwork. You smile at friends at the next table, while you spot someone else flipping through an old, tattered book, squinting in the dim light. Everyone is dressed for the occasion, in eccentric yet elegant garb, looted from thrift shops, vintage stores, and our parents' and grandparents' closets.
Then we hear a few riffs on the piano, and then the performer enters, and begins to sing...
This is part one of Debussy's setting of Baudelaire's
Les Fleurs du Mal
to music. Relax and enjoy....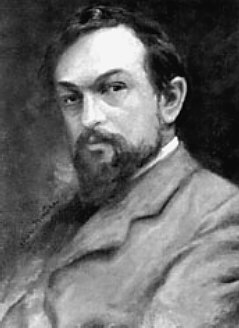 Claude Debussy himself, one of the few composers with the guts and talent to take on Baudelaire. He was working on an opera based on Poe's "Fall of the House of Usher" when he died....oh, if only.