I've been hitting the AFI Silver, catching more of their Hitchcock retrospective. Here's what I've seen lately...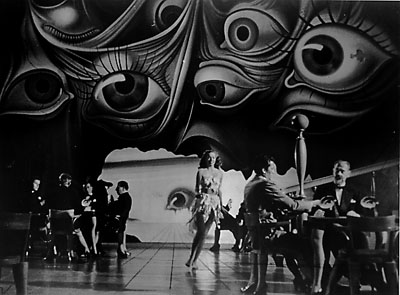 Some of Salvador Dali's design for SPELLBOUND's dream sequence.
SPELLBOUND (1945) has psychiatrist Ingrid Bergman becoming infatuated with the incoming chief of the posh institution where she work. Dr. Edwardes (Gregory Peck) is handsome and suave, but also has some eccentricities, and it's not long before she figures out that he's not really Dr. Edwardes...but he has no real idea of who he is. The puzzle of his real identity leads them to the discovery of a murder...
It's a good thriller, and loaded up with a lot of psychoanalytic content. Everything depends on psychology in Ben Hecht's script. It's also technically interesting; there's a weird, memorable score by Miklos Rozsa, and many experimental visuals, including the final confrontation where we see from the murderer's viewpoint the hand holding the gun, and the final explosion into color.
I don't think he needs help changing a tire...
Of course, the BIG deal is the dream sequence designed by Salvador Dali, where many clues to the murder are coded in bizarre imagery. It's arresting and unforgettable, worth the price of admission alone.
Next was THE PARADINE CASE (1947), a film not often seen, and there's reason why. It's a mess. Sexy Alida Valli is arrested for the off-screen murder of her blind war-hero husband. She hires top British barrister Gregory Peck (yes, that's right, Gregory Peck as a Brit, barely attempting an accent), who is married to perky Ann Todd but finds himself falling for Valli. And then he develops a defense for trying to pin the murder on the husband's devoted valet, played by a young Louis Jourdan...
OK, it's obvious the leads are miscast, except for Todd, who does quite a good job as the faithful yet confused wife. Joan Tetzel is also quite good as Todd's best friend, the daughter of one of Peck's associates. There's also good supporting turns by Charles Coburn as Tetzel's father, Charles Laughton as a wisecracking judge, and Ethel Barrymore as his beleaguered, ignored wife. Hitch had wanted Greta Garbo for the Valli role, Laurence Olivier or Ronald Coleman for the Peck role, and Robert Newton for the Jourdan role, but producer David O. Selznick interfered with production left and right, rewriting the script and recutting the movie and insisting on his "discoveries" being featured.
Sadly, the finished product has all sorts of story problems and ends up being fairly dull. I dozed a few times in the theater, a rarity for me.
Most recently was 1946's NOTORIOUS, featuring the memorable pairing of Ingrid Bergman and Cary Grant. Bergman is the daughter of a convicted Nazi criminal, and there's very discreet hints that she's known as a promiscuous, hard-drinking party girl. (Almost too discreet!) Federal agent Grant coaxes her into being a spy for Uncle Sam, taking her to Rio de Janeiro where she's to meet and romance another Nazi, Claude Rains. In order to get secrets from him, she ends up marrying him, causing trouble with her budding romance with Grant, but later stumbles on a big secret...
NOTORIOUS is a slick, well-made film, moving quickly and with good performances by the cast. Bergman is especially radiant as tramp making good, then finding herself in over her head. It's also interesting for an early glimpse of a destructive mother/son dynamic (seen in various spots in Hitch's work), as Rains' Nazi isn't half as evil and venomous as his manipulative mother (Leopoldine Konstantin), who very much seems to be the real brains of the outfit. The ending is a bit vague, but we're given enough clues to know what's going to happen, and there's enough finality that much else isn't needed. Still, Bergman and Grant are a great team (they reunited 12 years later for the sophisticated Stanley Donen comedy INDISCREET, which I suddenly want to see again), Rains and the rest of the supporting cast are good, and it's well-paced, and a suspense essential.
More on the way...